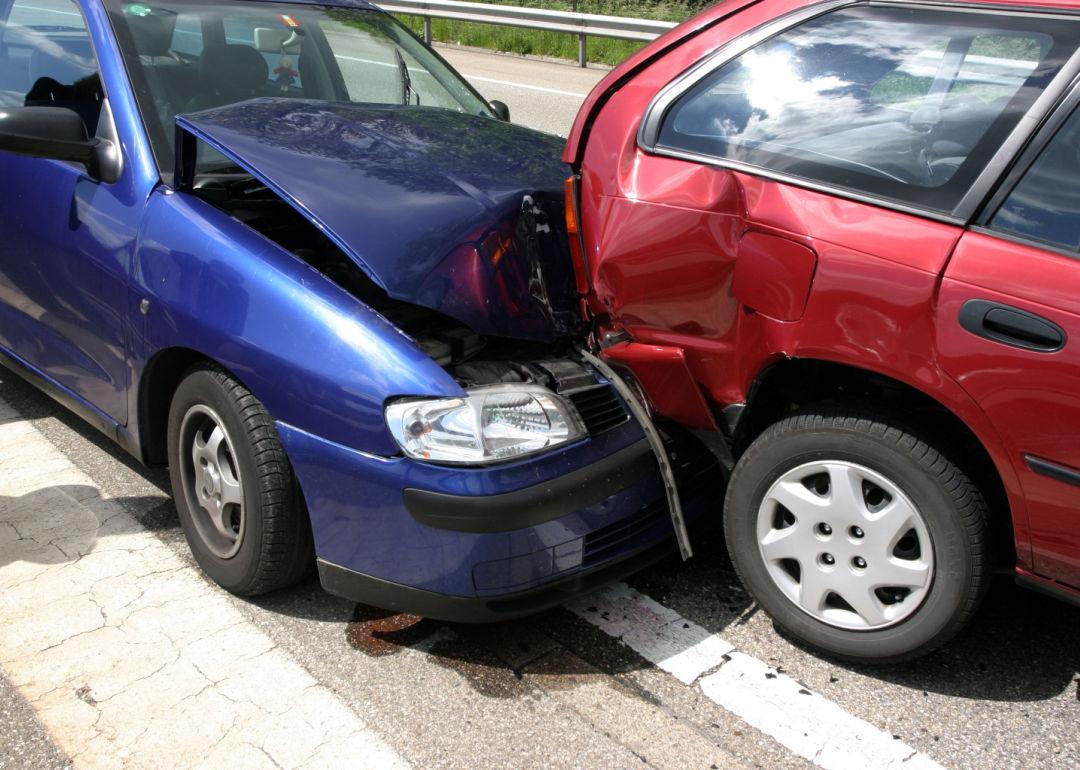 Evgeny Murtola // Shutterstock
A blue and a red car after a collision.
Now that traffic volume is returning to pre-pandemic levels, texting, scrolling on social media, or answering emails while driving are becoming widespread — with dangerous consequences. 
According to the latest data from the National Highway Traffic Safety Administration (NHTSA), distracted driving fatalities increased by 11% to 3,211 deaths from 2020 to 2021. And the problem seems to be growing. Since 2018, distracted driving fatalities have increased by 21%, and the fatality rate is the highest it's been since 2016.
MoneyGeek analyzed the most recent data from the NHTSA's Fatality Analysis Reporting System and state highway travel data from the Bureau of Transportation Statistics to see which states have the highest rates of distracted driving fatalities and find the places in the U.S. where distracted driving takes the biggest toll.
– Distracted driving fatalities are the highest they've been in five years. Despite Americans driving 1.2 billion fewer miles than pre-pandemic, distracted driving fatalities in the U.S. have increased by 11% since 2020 and 21% since 2018.
– New Mexico had the highest rate of distracted driving fatalities for the fourth year in a row. Its distracted driving fatality rate was double that of Louisiana, the state with the second-highest rate.
– Increasing distracted driving rates in Florida puts the state in the top 10 for the first time.
– Indiana and Arizona had the largest increases in distracted driving deaths from 2020 and 2021, with fatalities climbing by 56% and 48%, respectively.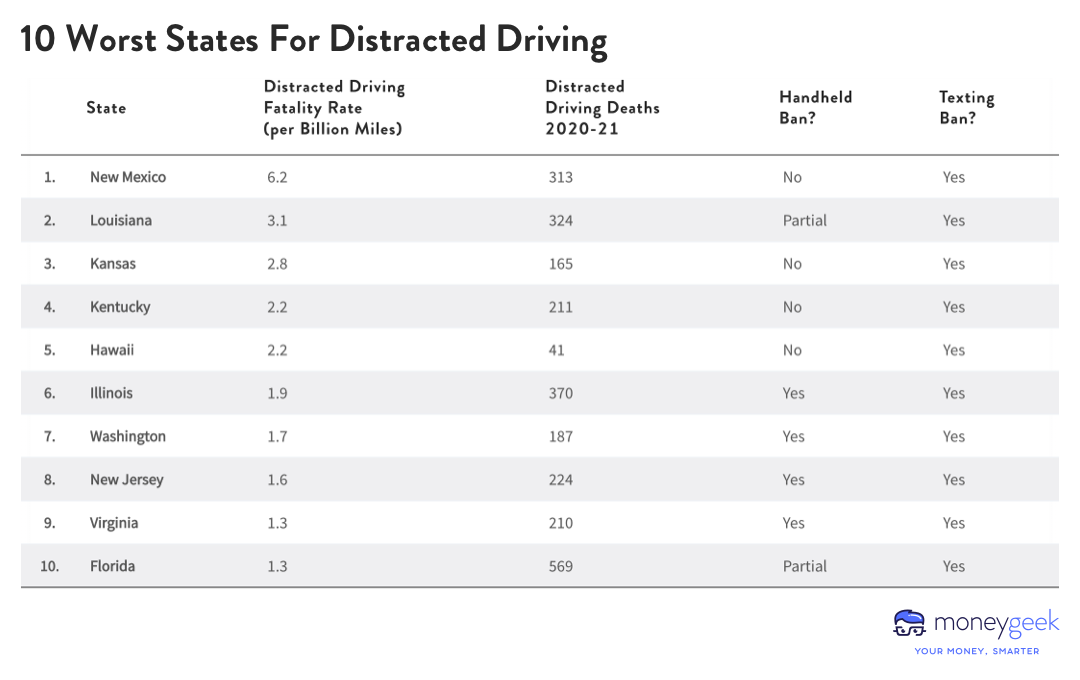 MoneyGeek
A chart showing the 10 worst states for distracted driving, ranked from worst to better, along with whether the state has a handheld and/or texting ban. New Mexico is number one, followed by Louisiana, Kansas, Kentucky, Hawaii, Illinois, Washington, New Jersey, Virginia, and Florida.
To find the states with the most dangerous distracted drivers, the analysis reviewed the most recent two years of distracted driving fatality and vehicle mile data and calculated a distracted driving fatality rate for every state.
The report ranked the states with the highest distracted driving fatality rates below and included information about each of these states' overall distracted driving fatality rate and the number of deaths related to distracted driving. 
The analysis found that, for the fourth year in a row, New Mexico had the dubious distinction of being the state with the highest rate of distracted driving fatalities relative to the miles traveled by car.
The report also specified whether or not each state had enacted a ban on using handheld devices or texting while driving — a "Yes" in this column indicates a full ban on all use, while "Partial" indicates that a state has some restrictions and "No" indicates no restrictions.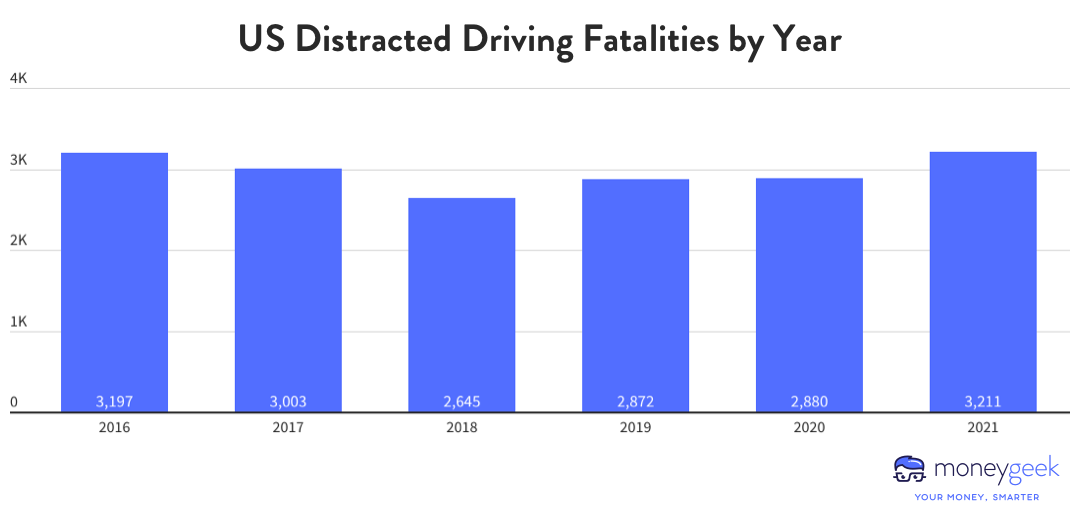 MoneyGeek
A bar chart showing U.S. distracted driving fatalities by year. There were 3,197 fatalities in 2016; 3,003 in 2017; 2,645 in 2018; 2,872 in 2019; 2,880 in 2020; and 3,211 in 2021.
The reality is that many Americans use their phones and engage in distracted driving behaviors regularly.
While most distracted driving doesn't end in deaths, the consequences can still be severe. For instance, pedestrians hit by those driving just 25 mph have a 1 in 3 chance of being seriously injured, according to a related pedestrian crash analysis.
Even if no one is injured, your car insurance rates will increase after an at-fault accident 57%, on average. Having an accident on your record makes finding affordable full coverage car insurance much more difficult. Depending on where you live, distracted driving without an accident may also incur significant driving penalties or fines. In short, the danger of distracted driving isn't limited to what someone can do to someone else.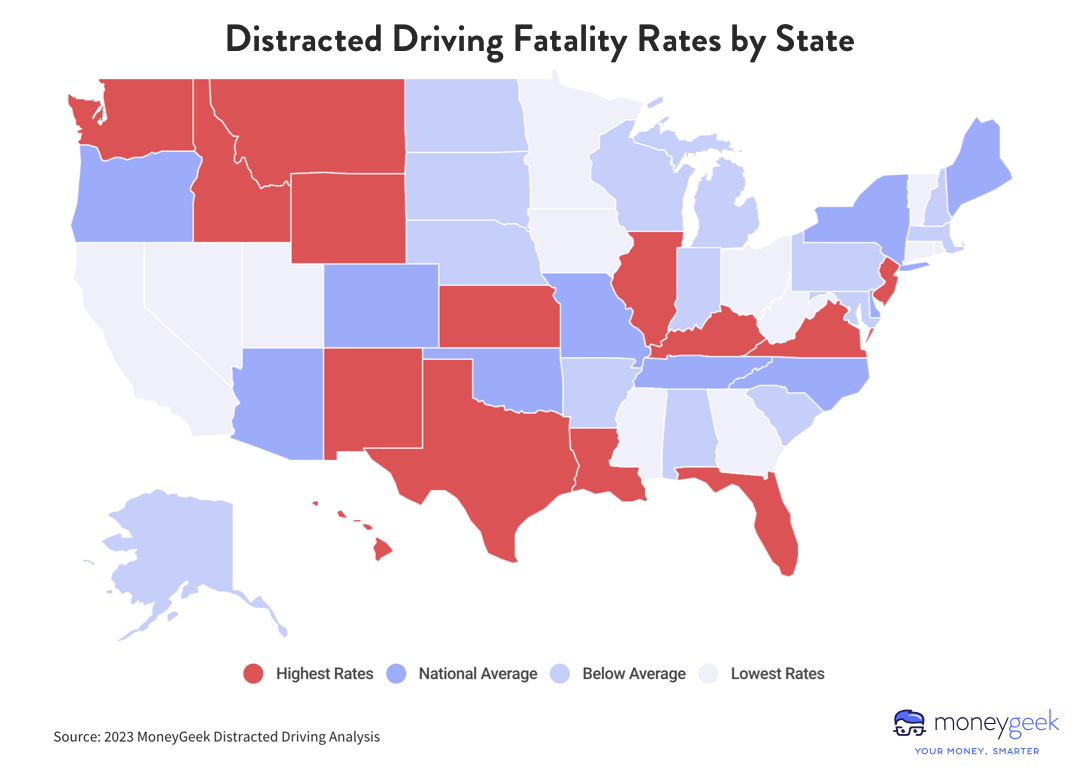 MoneyGeek
A map of the U.S. showing distracted driving fatality rates by state.
MoneyGeek calculated the distracted driving fatality rate for each state by accessing distracted driving fatality information provided by NHTSA and combining that with state highway usage provided by the Bureau of Transportation Statistics. The analysis looked at trends across years and compared state fatality rates against the national average. Currently, 2021 is the most recently available data from both of these sources.
The map above shows the distracted driving rate in each state relative to the national average. 
– Florida
– Hawaii
– Idaho
– Illinois
– Kansas
– Kentucky
– Louisiana
– Montana
– New Jersey
– New Mexico
– Texas
– Virginia
– Washington
– Wyoming
– Arizona
– Colorado
– Delaware
– Maine
– Missouri
– New York
– North Carolina
– Oklahoma
– Oregon
– Tennessee
– Alabama
– Alaska
– Arkansas
– Indiana
– Maryland
– Massachusetts 
– Michigan
– New Hampshire
– North Dakota
– Pennsylvania
– South Carolina
– South Dakota
– Wisconsin
– California
– Connecticut
– Georgia
– Iowa
– Minnesota
– Mississippi
– Nevada
– Ohio
– Utah
– Vermont
– West Virginia
This story was produced by MoneyGeek and reviewed and distributed by Stacker Media.

Jump to comments ↓
ABC 17 News is committed to providing a forum for civil and constructive conversation.
Please keep your comments respectful and relevant. You can review our Community Guidelines by clicking here
If you would like to share a story idea, please submit it here.
Terms of Service | Privacy Policy | Community Guidelines | KMIZ-TV FCC Public File | FCC Applications |
Do Not Sell My Personal Information
Breaking News
Severe Weather
Daily News & Weather Updates
Contests & Promotions
Accessibility Tools