Direct premium written through the delegated underwriting authority enterprises (DUAE) market in the United States continued its significant growth rate in 2022, increasing by 13.8 percent to $67.6 billion, according to a new market segment report released by AM Best. More frequent weather-related events, along with a hardening market in commercial lines, drove the increase in the DUAE market in 2021 and 2022.
Considered an integral part of the insurance distribution model, AM Best defines DUAE as a third-party entity contracted by a reinsurer to perform underwriting, claims or other administrative functions on its behalf. According to the rating company, the blanket term encompasses managing general agents (MGAs), managing general underwriters, coverholders, program administrators, program underwriters, underwriting agencies, direct authorizations, and appointed representatives.
DUAEs played an increasing role matching secondary perils and evolving risks with insurers. The cyber and cannabis markets are examples where MGAs and DUAEs' specialized underwriting skills prove beneficial. Many cyber-focused MGAs have emerged, capitalizing on their expertise and advanced technology. The cyber insurance market alone is expected to rise to $20 billion within the next five years, the report estimated.
MGAs: An All-Weather Distribution Channel for Soft and Hard Markets
MGAs and new surplus lines insurers, along with fronting and hybrid fronting companies aided the momentum.
The report found that as premium and number of MGAs has grown, the number of established carrier-MGA relationships giving rise to startups, like InsurTechs, also grew. Many of them, privately funded, have stimulated the DUAE market.
"The newly formed entities have transformed the insurance industry, moving away from traditional ways of doing business while enhancing service for individual customers and businesses," stated the AM Best report.
Agile technology and flexible business models have made DUAEs more attractive to talent, the report noted. A variety of personnel, including underwriters, actuaries, and even data scientists and software developers are considering careers at MGAs and DUAEs.
Providing risk management, governance infrastructure, underwriting and pricing accuracy, DUAEs offer carriers a way to grow profits organically, directing their efforts on emerging and niche risks. The Best's Market Segment Report contains an in-depth analysis of the U.S. DUAE market and shows these premium sources varying significantly by insurer.
Seven insurers wrote more than $1.0 billion in 2022 DPW through affiliated or unaffiliated MGAs. Philadelphia Indemnity generated the most DPW. The top 20 MGAs generated 32.5 percent of the $67.6 billion in 2022 direct premium written.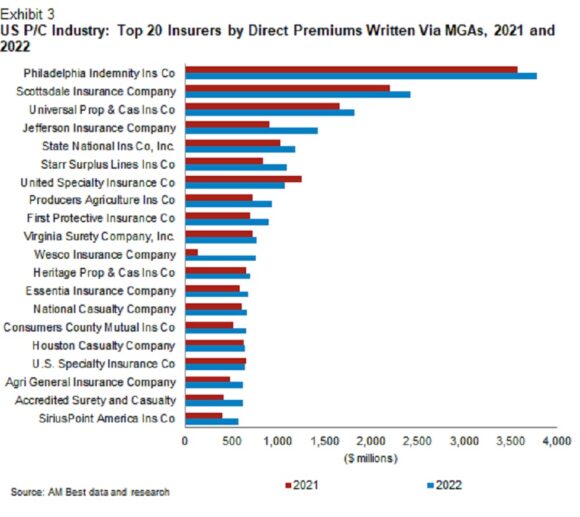 Significant losses have led to reduced reinsurance capacity in many lines of insurance, driving business to insurers that partner with DUAEs, due to their expertise and access to desired risk classes.
Startup fronting and hybrid fronting companies have been a key driver of growth for both DUAEs and MGAs, offering carriers a more efficient means of new business growth. Unhindered by bulky and complex operations, they match well with tech-driven MGAs. According to AM Best, MGAs offer the possibility of enhanced technology for policy and claims management, especially when it comes to quoting and binding new business.
Are MGAs Winning the Insurance Talent War?
Recent tightening of certain segments of the commercial lines market, specifically general liability, professional liability, umbrella and excess liability, and commercial auto coverage, drove higher premium growth, mainly the result of DUAEs.
The outlook remains positive for DUAEs in 2022, according to an AM Best rating issued for the global market. Continued growth in the increasingly popular insurance distribution model is expected, driven by advanced technology and specialty lines expertise.
This article first was published in Insurance Journal's sister publication, Carrier Management.
Topics Trends USA Pricing Trends Insurance Wholesale AM Best
Was this article valuable?
Thank you! Please tell us what we can do to improve this article.
Thank you! % of people found this article valuable. Please tell us what you liked about it.
Here are more articles you may enjoy.
Get automatic alerts for this topic.
Your email address will not be published. Required fields are marked *
*
*