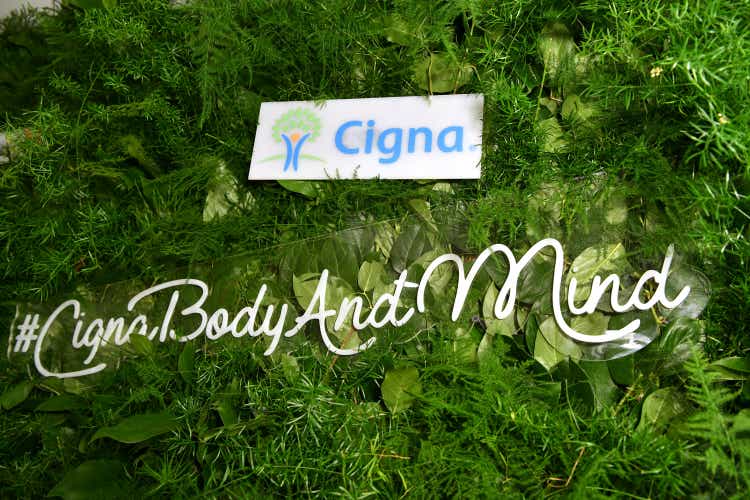 Slaven Vlasic
My regular readers may recall my first article on The Cigna Group (NYSE:CI) from June 2022, in which I rated CI stock a "hold" without much upside potential largely due to the risk of pending healthcare and other reforms. Nevertheless, I added the stock to my watch list due to the high quality of the underlying business. As the stock rose from $250 to more than $320 in a few months, I was obviously wrong in the short term, and I outlined possible reasons in my update published in November. Nevertheless, I refrained from opening a position in the stock at that level due to more or less obvious valuation concerns.
As it turns out, investors have flocked back into more growth-oriented and "narrative" stocks, in part due to falling inflation expectations (Figure 1) and the associated lower expected interest rates. The consequently lower discount rate helps valuation of companies with large expected future cash flows (see my article on duration). However, I would argue that the banking crisis triggered by the collapse of Silicon Valley Bank (OTC:SIVBQ, see my outlook for the industry) has also played a role in renewed investor pessimism regarding financials.

Figure 1: Federal Reserve Bank of St. Louis, 10-Year Breakeven Inflation Rate [T10YIE], retrieved from FRED, Federal Reserve Bank of St. Louis (obtained from fred.stlouisfed.org/series/T10YIE, May 2, 2023)
Cigna will report its first quarter results on May 5, 2023. In this update, I'll explain whether I think it's a good idea to buy Cigna stock ahead of earnings, given the renewed pessimism and considering and analyst estimates and recent revisions. I'll also take a look at Cigna's investment portfolio – after all, it is in part an insurance company that derives some of its profits from financial investments. Recall that Silicon Valley Bank collapsed in part because of a severe duration mismatch on its balance sheet, and other banks such as Truist Financial Corp. (TFC) and U.S. Bancorp (USB) also came under increased scrutiny from investors after their unrealized losses became the topic of conversation (see my article on their accounting moves preceding the crisis).
In my view, Cigna has delivered really good earnings reports for at least the last four years. Cigna's management has a tendency to under-promise in order to over-deliver, which is underscored by the wording in its guidance, for example. Revenue, earnings, and cash flow expectations are usually stated conservatively as "at least…", leaving the company well poised for positive surprises. Management has missed analysts' estimates only once over the last 16 quarters, in the fourth quarter of 2020 (Figure 2). Even though I believe that the insurance and managed healthcare business is fairly straight-forward to forecast (at least in the short term), the uncertainties related to the pandemic (associated costs vs. postponed treatments) that still existed at that time should also be taken into account.

Figure 2: The Cigna Group [CI] – earnings surprises (obtained from Seeking Alpha's Premium Service)
Similarly, the largely insignificant earnings per share revisions (Figure 3) confirm that Cigna does not generally surprise investors negatively. Analysts have typically been rather conservative, setting the company up for more or less significant earnings beats most of the time. However, earnings estimates for the first quarter of 2023 were revised significantly downward in late February, i.e., after the company announced its full-year 2022 results and provided guidance for 2023. Given that earnings will be weighted towards the second half of the year, as evidenced by the positive revisions for Q3 and Q4, I would not over-interpret the analysts' actions for Q1. Most likely, analysts were also influenced by the relatively modest 2023 guidance. Earnings per share growth of less than 6% (adjusted for effects from acquisitions) is well below the company's average for 2019 to 2022, but adjusted revenue guidance of 3.6% for 2023 was quite solid and in line with last year. Finally, it should be noted that Cigna is currently aggressively buying back its own shares following the significant dilution from the Express Scripts acquisition in 2018 (Figure 4). While this is obviously good news, investors should be aware that the majority of Cigna's expected 2023 earnings growth will come from share repurchases. Taking management's 2023 guidance into account (midpoint expectation of 298 million shares), five percentage points of growth will be attributable to share buybacks.

Figure 3: The Cigna Group [CI] – quarterly EPS revision trend (obtained from Seeking Alpha's Premium Service)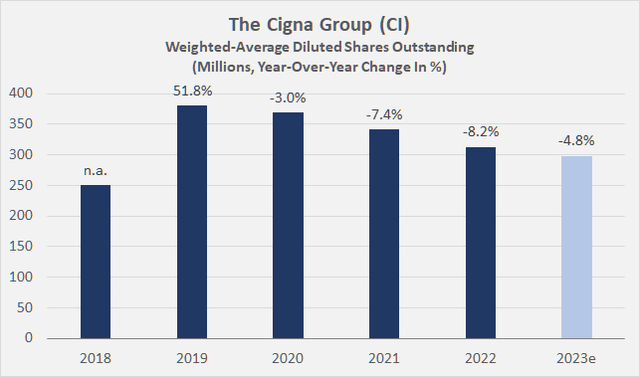 Figure 4: The Cigna Group [CI] – weighted-average diluted shares outstanding (own work, based on the company's 2019 to 2022 10-Ks and the full-year 2022 earnings press release)
Taking a more distant view, Cigna has also proven to be very reliable over longer periods of time. FAST Graphs' two-year forward analyst scorecard, shown in Figure 5, compares analyst estimates to actual results. As a long-time subscriber to FAST Graphs, I have not encountered many companies with such excellent track records. Of course, CI's earnings are easier to model than more cyclical companies, but the company's reliability is still worth noting.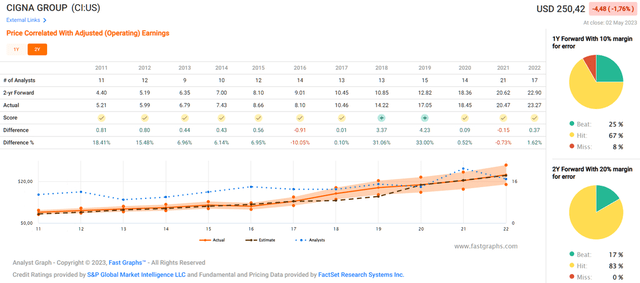 Figure 5: The Cigna Group [CI] – two-year forward analyst scorecard (obtained with permission from www.fastgraphs.com)
Taken together, I think Cigna has a good chance of beating analyst estimates on Friday, which could provide upside for CI stock. However, before getting caught up in the fear of missing out and buying the stock in haste ahead of the results, it's worth remembering the perils of recency bias and instead taking a step back and evaluating the stock from different perspectives.
As of today (May 03, 2023), the stock is down 26% from its all-time high (which coincides with the 52-week high) to $250, which basically screams opportunity. However, taking a step back, consider that CI stock was trading at well under $200 not too long ago. Of course, earnings growth has been solid in recent years, and the bold acquisition of Express Scripts in 2018 was definitely a great move because of the potential synergies and cost benefits it brings. Cigna now plays on the level of CVS Health Corporation (CVS) and UnitedHealth Group Incorporated (UNH), and its economic moat has definitely been strengthened by the move, due in part to rising switching costs. Against this backdrop, it would be foolish to remain price anchored to the stock's consolidation phase following the Express Scripts transaction (2019 to 2021).
In addition, I believe CI deserves a positive note beyond the short-term earnings visibility mentioned above. Cigna's FAST Graphs chart over the past 20 years confirms that the company has an impeccable earnings record (Figure 6). It should be noted, however, that the company's unadjusted chart looks rather spotty (Figure 7), largely due to the number of acquisitions and asset disposals in the past and the associated charges. However, considering that EPS growth has averaged 14% over the past two decades also on an unadjusted basis, I would not over-interpret this aspect.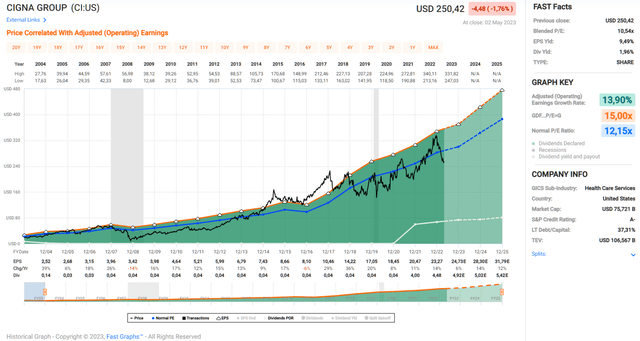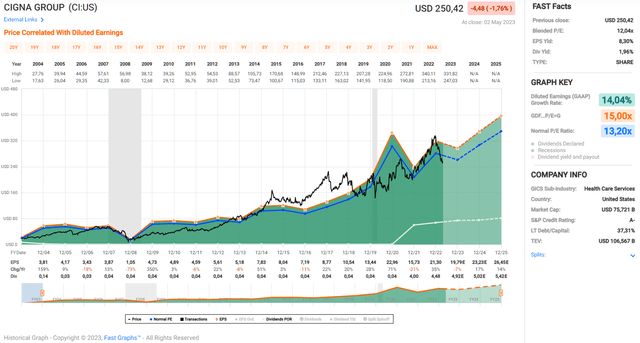 Figure 6: The Cigna Group [CI] – FAST Graphs chart based on adjusted operating earnings per share (obtained with permission from www.fastgraphs.com)
Figure 7: The Cigna Group [CI] – FAST Graphs chart based on diluted earnings per share (obtained with permission from www.fastgraphs.com)
According to these two charts, the stock is undervalued today with a blended P/E (price-earnings) ratio of 10.5. This corresponds to a PEG (price-earnings-growth) ratio of well below 1, confirming the solid value proposition. Based on three-year average earnings estimates for 2023 through 2025, the stock's PEG ratio is still slightly below 1. From this perspective, I would feel very comfortable opening a position in CI stock at $250.
Similarly, Cigna also appears undervalued based on several other multiples-based valuation metrics (Table 1). However, I would not overinterpret the seemingly huge discount to the five-year average dividend yield, as Cigna did not introduce a meaningful quarterly dividend until 2021. Given Cigna's low payout ratio (18% of average normalized free cash flow over the past three years, see below), reliable earnings, and solid growth prospects, I believe it could indeed be a dividend growth stock in the making. The 10% dividend increase in February is a first, very positive sign.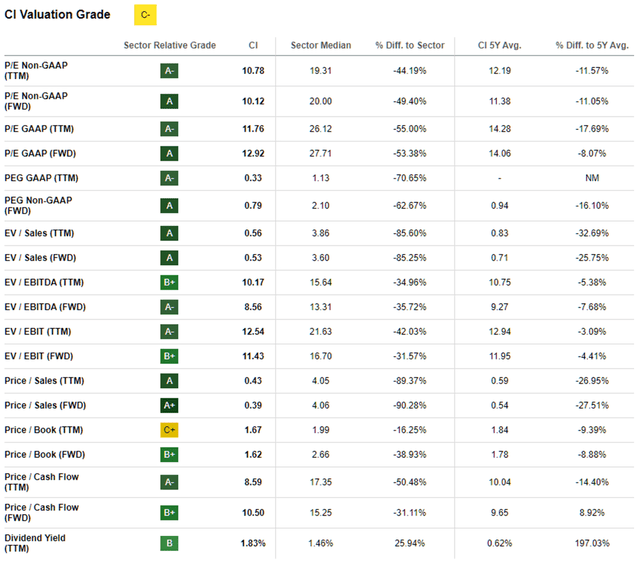 Table 1: The Cigna Group [CI] – valuation metrics and sector comparison (obtained from Seeking Alpha's Premium Service)
Morningstar currently rates Cigna's stock four out of five stars and at a 22% discount to its estimated fair value of $321. Fair value is assessed with medium uncertainty, likely and largely due to healthcare reform, competition, and customer concentration risks (particularly the DoD Pharmacy Program contract, p. 9, 2022 10-K).
Finally, Cigna stock also looks favorably valued from a discounted cash flow perspective. Figure 8 shows a sensitivity analysis based on the company's average free cash flow for 2022 to 2022, normalized with respect to working capital movements and adjusted for stock-based compensation (nFCF). At an expected cost of equity of 9.5%, Cigna's nFCF doesn't even have to grow for the stock to be fairly valued today.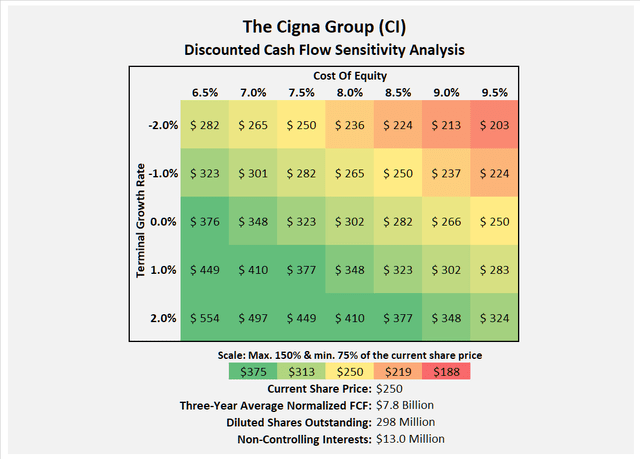 Figure 8: The Cigna Group [CI] – discounted cash flow valuation sensitivity analysis (own work, based on the company's 2017 to 2022 10-Ks and own estimates)
While I concede that nFCF has indeed not grown since the Express Scripts acquisition (Figure 9), I would argue that the synergy potential has not yet been sufficiently realized. Also, and very importantly, it should not be forgotten that Cigna sold its international life, accident and supplemental benefits businesses to Chubb Limited (CB) in July 2022 and its non-medical insurance unit to New York Life Insurance in 2020. These were certainly bold moves as part of the company's long-term plan to focus on its healthcare business, and the divested businesses definitely contributed significantly to Cigna's cash flow, as suggested by the combined pre-tax cash proceeds of $11.6 billion (p. 92, 2022 10-K).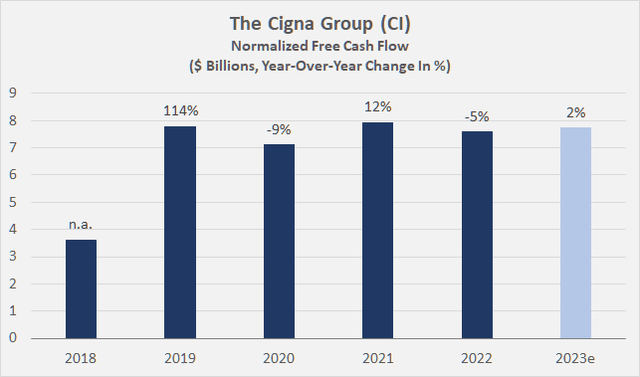 Figure 9: The Cigna Group [CI] – free cash flow, normalized with respect to working capital movements (three-year rolling average) and adjusted for stock-based compensation (own work, based on the company's 2018 to 2022 10-Ks, the full-year 2022 earnings press release, and own estimates)
In my view, investors are currently underestimating Cigna's strong business prospects and overweighting the potential risks of healthcare reform. This is reflected in the company's conservative valuation from a free cash flow and earnings perspective. Assuming the market values Cigna stock at its long-term average P/E of 12 by the end of 2025 – and that can hardly be called a demanding valuation – investors who buy the stock today would look at an annualized return of nearly 20%, including the dividend, which analysts quoted by FAST Graphs estimate (quite conservatively) at an average annual growth rate of 5% over the next two years. My view is that the company would have to really surprise investors on the downside, or that strong political headwinds would have to materialize for the stock to make a significant downward move.
But perhaps investors have become cautious about Cigna's investment portfolio? After all, the Federal Reserve has been aggressively raising interest rates throughout 2022, which has put downward pressure on asset valuations and thus the value of banks' and insurance companies' investment portfolios.
As I noted in my articles on Truist Financial and U.S. Bancorp (here and here), several banks are suffering significant unrealized losses in their investment portfolios due to the Federal Reserve's aggressive rate hikes. The problem is compounded by the preceding period of historically low interest rates, which essentially forced banks and insurance companies to buy excessively expensive assets. As the example of Silicon Valley Bank shows, the realization of these losses can be devastating, due in large part to the inherently high leverage of banks (and, of course, the lack of adequate risk management at SVB). Insurance companies are different in that they are not exposed to the more or less constant risk of a bank run. Their investment portfolios are generally quite safe in this context, and because expenses can be planned quite well, the treasury departments of insurance companies have a somewhat "easier" job.
Over the past six years, Cigna generated average annual net investment income (NII) of $1.3 billion, an increasingly smaller percentage of total adjusted operating income due to earnings growth (34% in 2017, 16% in 2022). In 2022, NII declined sharply, both due to the difficult comparison (2021 was marked by a significant appreciation in asset valuations) and the bear market in 2022.
At the end of 2022, Cigna reported $17.2 billion in investments on its balance sheet, representing about 12% of total assets and unchanged from the previous year in relative terms. Long-term investments accounted for 95% of total portfolio value and are therefore theoretically vulnerable to significant mark-to-market losses.
However – and this is the key factor – the company's debt securities (57% of total investments, Figure 10) are classified as available for sale and are therefore carried at fair value. Similarly, equities (4% of total investments) are also carried at fair value when such a value can be readily determined – otherwise they are carried at cost less impairment, and this is currently the case for 2.8% of Cigna's total investments. At the end of 2022, the company's debt and equity securities were carried at 91% and 59% of amortized cost, respectively. 89% of the total market value of all of Cigna's debt securities were corporate bonds at the end of 2022. Also quite reassuring is the fact that 85% of Cigna's debt securities (in terms of carrying value, portion of investments with a decline in fair value from amortized cost) are investment grade securities. Finally, other long-term investments, which account for 22% of the total, consist largely of real estate investments and securities partnerships, with less than 5% of the segment (i.e., 1% of the total portfolio value) invested in office real estate.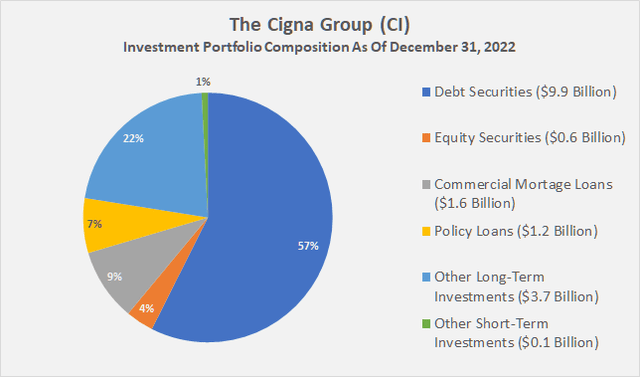 Figure 10: The Cigna Group [CI] – investment portfolio composition at the end of 2022, balance sheet amounts (own work, based on the company's 2022 10-K)
Taken together, unlike several banks and possibly other insurance companies, Cigna currently has no investments with material unrealized losses on its balance sheet, arising, for example, from amortized cost accounting. The company carries virtually all of its assets at fair value. The composition of the portfolio looks conservative and balanced, and its contribution to net income is comparatively small. It is therefore not surprising that also from this perspective, Moody's saw no reason to change its current long-term credit rating (Baa1, stable outlook) in the wake of the current crisis in the financial sector.
Given the conservative nature of Cigna's management and its tendency to under-promise in order to over-deliver, I believe the company has a good chance of beating earnings estimates on Friday. Historical earnings, from both an adjusted and unadjusted perspective, confirm that Cigna continues to grow strongly. The acquisition of Express Scripts in 2018 was certainly a bold move that resulted in a significant increase in Cigna's outstanding shares, but the company is aggressively buying back shares at a fairly attractive valuation. In my opinion, the company is maintaining a responsible balance between debt reduction (debt is still quite high at 3.0x EBITDA) and share buybacks. Thanks to the bold move in 2018, Cigna now generates about half of its cash flow from unregulated sources, which should have a positive long-term impact on investor sentiment.
The stock is significantly undervalued in my opinion, both from a multiples and discounted free cash flow perspective. This is mainly attributable to the (always) looming risk of healthcare reform, the lack of free cash flow growth since the Express Scripts acquisition, and lower demand for "safe haven" stocks. While one can argue that the synergies are not yet fully visible, it should also be remembered that Cigna sold significant assets in 2020 (non-medical insurance business) and 2022 (life, accident and supplemental benefits business). Finally, investors are likely still overly cautious given these aggressive moves toward a healthcare-focused company.
A look at Cigna's current investment portfolio did not reveal any skeletons in the closet, as the company reports most of its investments at fair value anyway. At the same time, I think it would be overly conservative to refrain from investing in this well-managed company for fear of spillover risks given the current crisis in the financial sector.
In closing, I acknowledge that I was overly conservative in my original assessment last year and welcome the current opportunity. I believe that Cigna is currently underappreciated as a company, but also from a dividend perspective. Thanks to shareholder-friendly management, very reliable earnings and cash flows, and finally an extremely conservative payout ratio of currently less than 20% of three-year average free cash flow, CI could indeed be a dividend growth stock in the making.
I don't see any significant near-term headwinds that could lead to a disappointing earnings announcement on Friday. So, in theory, and in anticipation of an earnings beat, it seems like a good idea to buy The Cigna Group stock ahead of the release. However, since I'm always a bit hesitant to buy stocks before earnings – and I know that's probably irrational in this case – I'll likely wait until after the earnings report to open a position in the stock.
As always, please consider this article only as a first step in your own due diligence. Thank you for taking the time to read my latest article. Whether you agree or disagree with my conclusions, I always welcome your opinion and feedback in the comments below. And if there is anything I should improve or expand on in future articles, drop me a line as well.
This article was written by
Analyst's Disclosure: I/we have no stock, option or similar derivative position in any of the companies mentioned, but may initiate a beneficial Long position through a purchase of the stock, or the purchase of call options or similar derivatives in CI over the next 72 hours. I wrote this article myself, and it expresses my own opinions. I am not receiving compensation for it (other than from Seeking Alpha). I have no business relationship with any company whose stock is mentioned in this article.
The contents of this article and my comments are for informational purposes only and may not be considered investment and/or tax advice. I am neither a licensed investment advisor nor a licensed tax advisor. Furthermore, I am not an expert on taxes and related laws – neither in relation to the U.S. nor other geographies/jurisdictions. It is not my intention to give financial and/or tax advice and I am in no way qualified to do so. I cannot be held responsible and accept no liability whatsoever for any errors, omissions, or for consequences resulting from the enclosed information. The writing reflects my personal opinion at the time of writing. If you intend to invest in the stocks or other investment vehicles mentioned in this article – or in any form of investment vehicle generally – please consult your licensed investment advisor. If uncertain about tax-related implications, please consult your licensed tax advisor.
Seeking Alpha's Disclosure: Past performance is no guarantee of future results. No recommendation or advice is being given as to whether any investment is suitable for a particular investor. Any views or opinions expressed above may not reflect those of Seeking Alpha as a whole. Seeking Alpha is not a licensed securities dealer, broker or US investment adviser or investment bank. Our analysts are third party authors that include both professional investors and individual investors who may not be licensed or certified by any institute or regulatory body.