By Jen Frost
A technology firm has blamed a former employee for a discriminatory job advert that sought a "white" only employee to work with clients listed as Berkshire Hathaway and HTC Global.
As of Tuesday evening (April 4), the job advert for a Salesforce business analyst and insurance claims administrator, said to be posted by Arthur Grand Technologies (Arthur Grand), had said: "[note] Only Born US Citizens [White] who are local within 60 miles from Dallas, TX [Don't share with candidates]"
Directly below this, the client was specified as: "HTC Global/Berkshire Hathaway"
The advert was removed from Indeed yesterday evening, and a Glassdoor job posting in which Google shows the same language was used is also no longer available.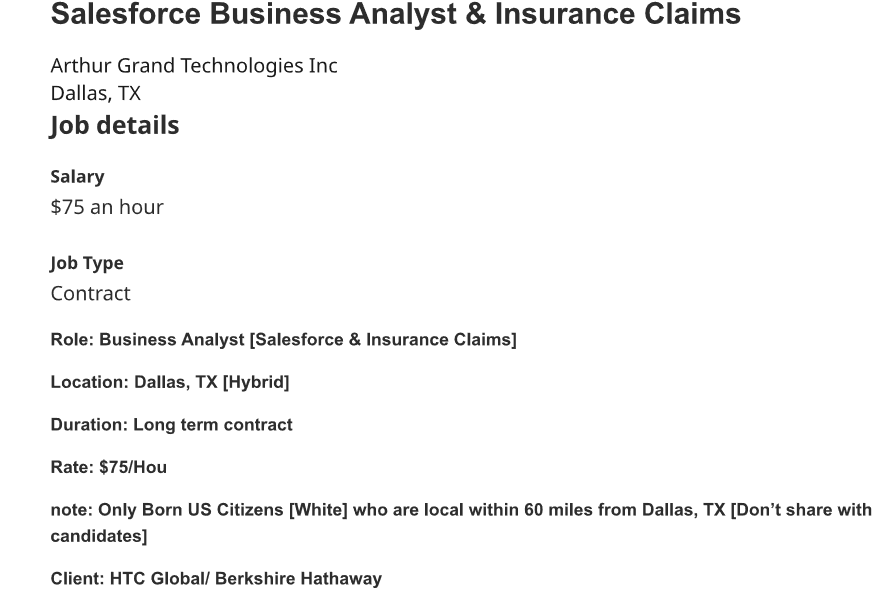 In a post on LinkedIn, dated Wednesday, April 5, 2023, Arthur Grand said it had initiated legal action against a former employee said to be responsible for the post. The ex-employee had taken "an existing posting and added discriminatory language, then reposted it through his own account," according to the tech company.
Arthur Grand said it had worked with the job portal to remove the "offensive" posting. When approached by Insurance Business, Indeed said it was unable to comment on the individual case but that "discrimination is strictly prohibited" on its platform.
"Arthur Grand is a minority-owned company that has been offering IT and staffing services since 2012 and we pride ourselves on the diversity of our staff and leadership," Arthur Grand said in its social media statement.
"It is the policy of Arthur Grand that all employees and applicants for employment are afforded equal opportunity without regard to race, color, creed, sex, sexual orientation, age, national origin, religion, or non-job-related disability."
The firm said that all decisions on employment are "based on the individual's qualifications."

Insurance Business has reached out to Berkshire Hathaway and HTC Global for comment.