Three Florida insurance carriers, one large and two small, are seeking approval for major rate increases, with one condominium policy increase as high as 103%.
Citizens Property Insurance Corporation's board of governors this week voted to file for a 14.2% average increase for personal lines and a 12.3% spike for commercial policies. The rate change, if approved by the Florida Office of Insurance Regulation, would take effect Nov. 1.
The rate appears to be slightly above Citizens' statutory glidepath restrictions, which limit increases to no more than 12% for 2023. That's because it includes surcharges and fees paid, including payments to the Florida Hurricane Catastrophe Fund, a Citizens spokesman said.
But the rate hikes are far below what is actuarially indicated if Citizens had no rate caps: Officials noted that increases of almost 58% for personal lines and almost 69% for commercial policies are indicated, according to information provided to the board of governors.



It's not certain regulators will approve the rate increase. In 2022, Citizens filed for an 11% increase but OIR trimmed it to 6.4%, despite a push to make Citizens less competitive with the primary market carriers.
On Thursday, the OIR held public hearings on massive increases requested by two smaller insurers: First Community Insurance, a Bankers Insurance subsidiary; and Kin Interinsurance Network.
First Community, based in St. Petersburg, raised its average rate by almost 45% in November for more than 25,500 homeowners, then asked for approval under Florida's use-and-file practice. About the same time, First Community announced it would non-renew most of those policies as it exits the homeowners market in five Southern states.
In other words, thousands of Florida homeowners saw an average premium increase of $847 last fall, only to have their policies nonrenewed, starting next week. If approved by OIR, it would be the fourth rate increase in three years for First Community. OIR approved a 50% rate hike in 2021 – double what the carrier had requested.
First Community and Bankers Chief Financial Officer Scott Charbonneau said at the hearing that the insurer had seen more than $50 million in underwriting losses since 2020, mostly due to hurricanes in Florida and Louisiana. The insurer also has been hit with heavy litigation costs in Florida, and reinsurance costs jumped 45% in 2021 and 83% last year, he said.
The rate request was filed before the Florida Legislature late last year approved significant reform measures designed to limit claims litigation and attorney fees for property insurers. Charbonneau said the legislation should help reduce loss costs in the long run, but the "deterioration of the loss experience" will offset that, and could have led to even more rate increases had the company stayed in the Florida market.
A sweeping tort-reform bill signed into law last week "would not have changed our decision," Charbonneau said. Its sister company, Bankers Insurance, also stopped writing homeowner policies in Florida last June.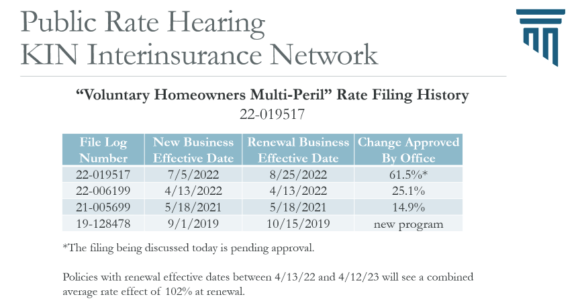 First Community and Bankers, which has been domiciled in Florida since 1976, will maintain a tiny presence in the state, with some HO-4 tenants insurance and some dwelling fire policies – only about $500,000 in total premium.
"Is there hope that Bankers could come back in?" Charbonneau asked. "I think that door hasn't completely shut but we'll need to see more in the development of these reforms in the marketplace. We would love to come back in to the Florida marketplace if the time is right but we have no plans in the near future, at all."
Later Thursday, OIR held a hearing on some startlingly large use-and-file rate increases proposed by Kin Interinsurance Network – of 61.5% for HO-3; 84.3% for DP-3; and 103.2% for condominium policies.
Dan Ajun, chief actuary, and Angel Conlin, CEO of Kin, said the large numbers reflect soaring reinsurance prices, competitors' recent rates, Kin's surplus levels and a need to keep the company on a sound financial footing. The increases took effect last July for new business and last August for renewals, before Florida lawmakers enacted some of the litigation-limiting reform measures.
But the Kin officials said that Senate Bill 2A, approved at a special legislative session in December, may not have a significant impact on Kin's rates going forward. That's because SB 2A outlawed assignment-of-benefits agreements in homeowner policies, but Kin, launched in 2019, has already offered premium discounts for policyholders who refuse AOBs.
Kin is a reciprocal exchange insurance company owned by policyholders. It operates in several Southern states and in California. Kin Interinsurance Network, which provides Florida homeowner policies, is based in St. Petersburg.
Kin's HO-3 rate increase affected some 27,150 homeowners, raising their annual premiums an average of $1,395, the filing shows.
Comments on the Kin and the First Community rate increases can be emailed to ratehearings@floir.com by April 13.
Topics Florida Pricing Trends
Was this article valuable?
Thank you! Please tell us what we can do to improve this article.
Thank you! % of people found this article valuable. Please tell us what you liked about it.
Here are more articles you may enjoy.
Rabb is Southeast Editor for Insurance Journal. He is a long-time newspaper man in the Deep South; also covered workers' comp insurance issues for a trade publication for a few years.
Get automatic alerts for this topic.
Kin with the big increase after a $100M+ Series D raise. That will be a fun one to explain to the regulators.
Your email address will not be published. Required fields are marked *
*
*